San Jose Police Death: Victims of an officer-involved shooting in San Jose named SAN JOSE, Calif. – A six-hour span between Sunday and Monday saw San Jose police identify the suspects murdered and the officers engaged in two separate Shootings. Police Officer Albert Morales reported that Adrian Rivera, 22, a stabbing suspect armed with a meat cleaver, was fatally shot by policemen in San Jose, California, on Sunday.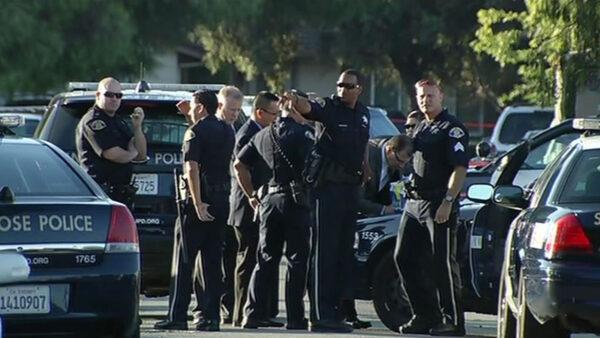 According to Morales, officers were called to the neighborhood of Virginia Avenue and South 34th Street at around 6:20 p.m. Sunday after a stabbing was reported. Upon arrival, cops discovered a 31-year-old guy with several stab wounds, Morales said. He was taken to the hospital with life-threatening injuries, Morales said. Morales said the suspect fled in a car that impacted several automobiles before being abandoned near Kammerer and South Sunset avenues. According to Morales, the suspect was caught by two police officers in the 200 block of Packing Place, where he allegedly evaded them by running.
A butcher cleaver-wielding man was apprehended by the officers, Morales claims. The officers fired at the man, later identified as Rivera, Morales said, who was slain. As a result of their actions in shooting Rivera, Officers Dorn and Faye, both of whom have served in the department for eight years, have been placed on paid administrative leave, the department spokesman announced. Aaron James Phillips, a 30-year-old armed suspect who was shot by two officers, has been confirmed as the second armed suspect who died. Phillips was found dead from what seemed to be a self-inflicted gunshot wound hours later, according to police Sgt. Enrique Garcia.
Behind the Death Story
Officers were called to a home in the 1300 block of San Marcos Drive at 12:10 a.m. Monday by a woman who claimed her brother was intoxicated, armed with a handgun, and threatening to harm himself, Garcia said. About five minutes after that, officers arrived at the house and found Phillips on the porch, Garcia claimed, with a revolver and a shotgun. According to Garcia, Phillips flashed a shotgun loaded with a live cartridge at the cops, prompting one of them to open fire.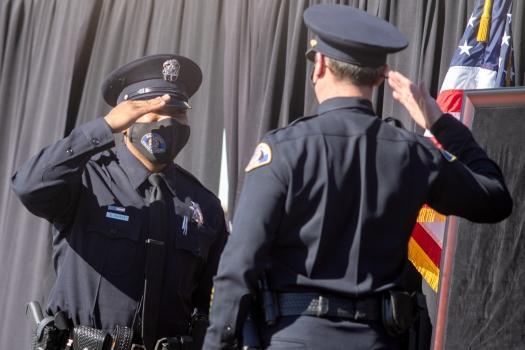 Officers heard a single gunshot when Phillips returned to the residence, Garcia said. The garage was used by several members of the family, he claimed. Around 6:20 a.m., officers broke into the house and discovered Phillips dead, according to Garcia. In the wake of the shooting, Garcia said that Officer Bergstrom and Officer Moran, both of whom had been with the department for less than three years combined experience, had both been placed on paid administrative leave for their roles in the incident. The occurrences were the fifth and sixth officer-involved shootings of the year for the Police Department.
Please call the homicide team at (408) 277-5283 if you have any information about either case. Call Silicon Valley Crime Stoppers at (408) 947-7867 to leave an anonymous tip. A memorial service was held in honor of fallen San Jose police officer Michael Katherman, who was killed in the line of duty earlier this month. In the California city of SAN JOSE (KGO), Officer Michael Katherman of the San Jose Police Department, who died in the line of duty in a motorcycle accident last week, was honored at a moving memorial service on Tuesday. Officers from the Bay Area's law enforcement agencies stood on the streets of San Jose, saluting as a hearse drove past on its way to SAP Center for a memorial.
San Jose Police Death
The 34-year-memorial old's service was filled with both sorrow and laughter. In addition to being an amazing police officer, San Jose's police chief spoke to Katherman as a loving husband and father. A sad procession made its way from a Los Gatos funeral home to San Jose's SAP Center in a long, twisting route. Tuesday, as the funeral procession for deceased California police officer Michael Katherman, passes through Gilroy, the crowds pay their respects…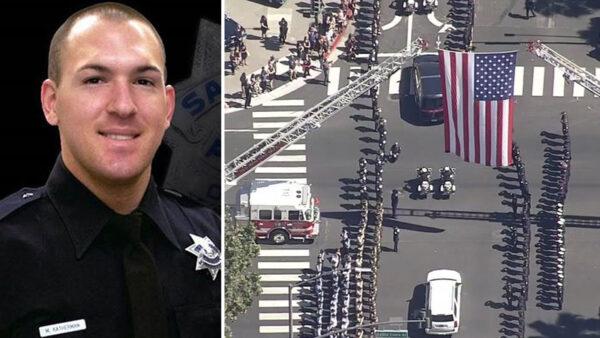 Continue Reading
To honor the life of a much-loved cop, officers from all around the region, state, and country gathered to pay their respects. At the entrance, a flag was hungover two San Jose fire ladders. Inside, though, the gloom lifted as loved ones and coworkers remembered Michael Katherman, affectionately known as "The Kat Man" by classmates. "Mike, at a five-eighths to five-ninths height, could actually dunk," claimed SJPD Chief Eddie Garcia. "Mike had a talent for mimicking other people's voices. I've heard that he's capable of playing Chris Farley and Kermit Frog to a tee. A retired sergeant, however, is said to be his best."
When speaking on behalf of his family, Tom Katherman described his son as a committed Christian who cared about the welfare of others. He was liked by others, too. "Mike was a fiery individual," he remarked. "His love of God, his love of his family, his love of sports, and his love of serving others are all evidence of his deep devotion. As well as to make others laugh and smile as we go along." People's eyes welled up with emotions as they learned how Katherman was a loyal husband, father of two sons, and a police officer who gave of his time to help the families of other policemen slain in the line of duty.
It's Michael Jason Katheman's name
Near at 4:20 p.m., Officer Michael Katherman was killed when his motorbike collided with a car at North 10th and Horning Streets. In the area, another car attempted to turn left in front of him, which resulted in an accident. They conducted CPR on Officer Katherman and called for help using his radio. Sadly, he lost his battle with his injuries after being taken to Regional Medical Center. During a family friend's reading of letters from the officer's two sons, Josh and Jason, the tears poured even more.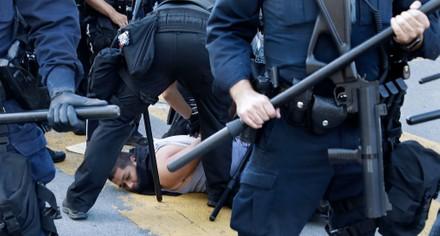 He has been with the San Jose Police Department for 11 years, Officer Katherman. Besides his spouse and two children, he was also predeceased by his parents. After losing her husband, slain San Jose police officer Michael J. Katherman, wife April wrote for COPS about "Finding My Happiness Again." April's article was published on October 1.
At first glance, June 14, 2016, appeared to be a regular June day. My two young sons had recently completed 4th and 2nd grade during the summer break. I was on summer break from my job as an elementary school teacher at the time. As I had just completed my master's degree program the day before, I had a distinct impression that summer had finally arrived. Mike had to leave the house at nine in the morning because he worked a late shift. Currently, we were working on renovating the hallway bathroom. The tile installer and his colleagues were on the job, busy as beavers.
Leaving the house, Mike walked into the bathroom and made sure the tile men were ready for the day, and I recall one of them asking him what color grout he preferred. "Whatever my wife desires!" he exclaimed. They were all hugged by Mike and he instructed them to "be good to your mom," just as they usually did. He then rode away on his police motorcycle after kissing me goodbye and saying his goodbyes in his police costume.